C-12, Jamuna Nagar,
Road No. 1, Ajmer Road,
Sodala, Jaipur-1( India)
Tele Fax: 0091-141-2220832

Introduction
Agrocon International Multi-disciplinary Engineering consulting firm based in Jaipur, India, brings you the most prominent customized process automation solutions and real time information that enable significant improvement in operational efficiency of the firm. We go through a process where leading edge information, communication, automation and sensor technologies are logically blended with our experienced professional expertise to offer extensive design, engineering, and other technical and management services. We devote ourselves towards offering the best optimized solutions that yields high return on investment. Agrocon International is a recognized leader as Turnkey Suppliers & Consultants in Edible Oils-Fats, based Industry & also in Water & Earth( Mineral) Resources.
Our team of engineers with wide ranging domain expertise related to instrumentation, controls, automation and information management provide responsive, high-quality engineering services to a broad spectrum of industrial clients that assist them in meeting quality requirements or market change economically. Our top-notch in-house staff works closely with our clients and maintain long term relationship and keep them well acquainted of their assignments on a regular basis. We offer our consultancies for Edible/vegetable/cooking oil, to produce Kacchi Ghani Oil, Solvent Extracted Oil, Refined Cooking oils, Hydrogenated & Inter-esterified Fats.

Old & New Machinery
We also provide services for the supply of old/used edible oil machineries after re-conditioning as per standard warranty conditions & these machineries are also sold on commission basis. (AS IS WHERE IS)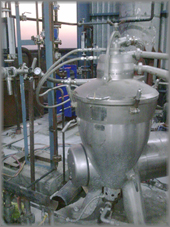 Soyabeans
De-Oiled Soyabean Meal